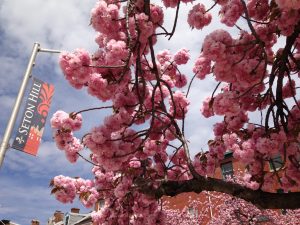 There's a lot happening in Seton Hill, and a lot of exciting events to come, so the Seton Hill Association president, Wayne Reed has put together a newsletter for you. We want to ensure you're informed of what's going on, and if you have questions or comments, you know where to direct them. A preview is below, but for the full newsletter, please click here.
A Seton Hill President's Almost Spring Reflection
February in Baltimore was the warmest on record but winter's last gasp in March has been challenging. Spring arrives on 3/20/17. Many thanks to all of you who have actively participated in Seton Hill Association. Inc. (SHA) related events including restaurant night at West Madison Craft Bar and the Community Walk with the Baltimore Police Department, Councilman Costello, and other representatives from City Council as well as City agencies. Our numbers are increasing from the previous year for those attending our last two community association meetings. The SHA Executive Board has put a great deal of effort in getting the speakers out for the issues that most impact our lives and we continue to advocate for the safety and prosperity of our neighborhood.
If you're already a member of the SHA please continue to tell us what's on your mind and join with us in implementing changes that benefit all of us. Attached I've highlighted events/special requests. I'm your elected President of the SHA –Wayne Reed. You may reach me by sending an email to president@setonhill.org. Please go to our website (www.setonhill.org) and Facebook page often for regular updates on our events and advocacy. Last, we're a volunteer board with no source of revenue other than membership dues or donations so please consider joining or making a donation to the SHA. You can also sign up for membership or donate by credit card online or you may contact our Membership liaison to make arrangements for obtaining the membership form or paying by check/cash. The SHA is a 501 (c) 3 tax exempt neighborhood association. Volunteers are always welcomed.
For the full text, please click here.