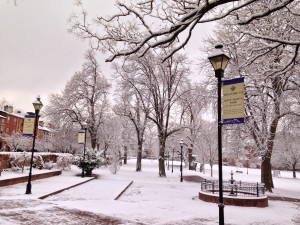 Happy Friday, Seton Hill!
Well – if the weather predictions are right – there's a lot of snow that is headed our way.  The most recent predictions say that Baltimore City will receive approximately 24 inches of snow between Friday night and into Saturday morning, possibly continuing until Sunday.
The Governor declared a State of Emergency in Maryland, and the Mayor declared a local State of Emergency here in Baltimore.
Officials are asking people to stay off the road, unless it's absolutely necessary.
The snow is supposed to start around 5pm tonight (Friday).  To prepare for the snowstorm, here are some tips we've compiled:
Before the snow starts:
Check in with your neighbors.  Ask if there is anything they need.
Have at least three days of water on hand for each person in your home.
Locate your snow shovels.
Note the location of the nearest storm drain and be prepared to shovel it out.
Charge your devices and be prepared for electric outages.
Check your flashlights and battery-powered radios for fresh batteries.
Remove your cars from snow emergency routes.  The emergency phase determines when the routes are in use.
Keep your pets indoors.
Review your medical prescriptions to be sure that you have enough medications to last a week.
After the snow stops:
SAFELY shovel your sidewalks.
Shovel the neighbor's sidewalk if they need help.
Shovel out that storm drain nearby.
If you use Ice Melt, or similar products, please use it appropriately. Be mindful of the environment, and don't kill trees or wash it down storm drains.
Come out to St Mary's Park to build a snowman!
Know that transportation WILL be disrupted. Metro/Subway will return to normal first, followed by the LightRail, then bus and private car. Plan accordingly.
Resources:
BGE: Please contact BGE at 1877.778.2222 or 1800.685.0123 if you have a power outage or see downed power lines.
311: Please dial 311(443.263.2220 for cell phones) to report any downed trees and/or debris in your neighborhood from the high winds, or if you see any homeless citizens on the street.
We wish you all a safe and warm snowstorm!