Every year the Seton Hill Association hosts the French Fair and Fleamarket. Please refer to our 6th Annual French Fair Page for details about the upcoming French Fair!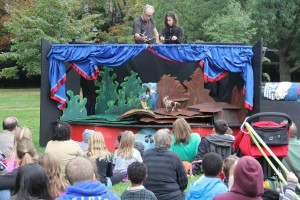 The 5th Annual Seton Hill French Fair and Fleamarket took place on Saturday 11 October 2013. All are welcome – whether you're a neighbor, a Baltimorean, or an out of town visitor. We look forward to spending the day with you, enjoying tasty food, playing fun games and listen to great music!
It is a free, fun, funky French themed fair that celebrates Seton Hill as Baltimore's old French Quarter. Hundreds joined us for dance, music, art on the fence, a fleamarket, good French-style food and drink, our signature French maid race, games and activities such as Petanque, Hula hooping, sack races, face painting, kids build the Eiffel tower, and a Toddlers Tour de France and Grand Prix.
Seton Hill thanks MECU neighborhood grants and Free Fall Baltimore for sponsorship.
If you would like to be involved in the planning or help with next year's French Fair, please email president@setonhill.org with the subject French Fair.
Fleamarket: If you wish to register as a vendor for the fleamarket next year, please e-mail your contact information to president@setonhill.org and make your payment to Seton Hill Association fleamarket, 600 N. Paca St, Baltimore, MD, 21201.