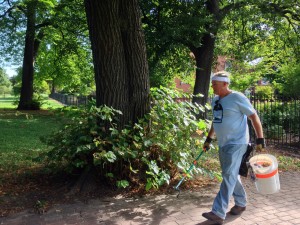 Hi all!
It's officially fall – and it's time to spruce up Saint Mary's park!  By now we've all met John, Seton Hill's park steward.  He's done an amazing job with the park, but he can't do everything alone.  Come out this Saturday, 27 September, to help us weed, clean behind the bushes, rake leaves, and plant some fall flowers around the park.
We'll provide the tools.  We'll even bring the coffee!
Start time: 0900, but feel free to join us whenever you're able to!
Let's continue to keep this the best park in Baltimore!
Here are some photos from our Spring clean!