Seton Hill Activities:
Earth Day/Love Your Park Event!
Saturday, 22 April @10am: Breakfast as a neighborhood (pay your own way) New America Café (429 N. Eutaw Street) at 10 am. Welcome New America Café to the neighborhood. Following breakfast volunteer to help mulch and plant flowers at 11:30 to 1pm in the St. Mary's Park. We'll meet up at the fountain in the north end of St. Mary's Park. Tell us you'll be there by sending an email to president@setonhill.org.
Buy in Seton Hill!
Sunday, 7 May, @2:30pm: Brag about why you love Seton Hill! We have invited realtors on a tour to see our neighborhood, sell our vacant homes, and we'll take them on a complimentary tour. Interested? You must RSVP to president@setonhill.org by 6 May at 12N. Tour will include the St. Mary's site, park fountain area, 2 historic houses, Neighborhood Fiber Co (old firehouse) and end at Howard's Dog Park. This event is in partnership with Midtown Development Corp. and Maison Realty.
Get info on home buying programs or learn about programs specifically designed for us as a historic district. Where: This event will be held on Sunday, 7 May at 2:30pm starting at the St. Mary's Spiritual Center (600 N. Paca Street).
Baltimore Bike Party: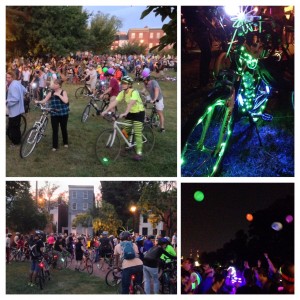 Join the Baltimore Bike Party the last Friday of every month.  Their ride starts at 7pm in St. Mary's Park.