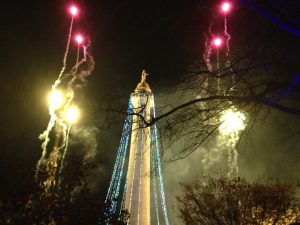 This has been a busy year! We have one final general meeting for 2016, scheduled for Tuesday, 1/10/17 from 7 to 8:30 pm held at the St. Mary's Spiritual Center (600 N. Paca St). All are welcome. Come out and meet your new board! There will be light refreshments and the topic of discussion will be utility (sewer/water) infrastructure updates impacting Seton Hill.
In addition to the Seton Hill general meeting, there are many exciting and festive events happening this month.
Close to home:
The first one is tonight, 1 December. It's the 45th Annual Washington Monument Lighting at the Washington Monument.
On Saturday, 4 December, there is the Holistic Holiday Pop Up Market at the Mount Vernon Marketplace.
On Sunday, 5 December, sports fans can watch the football game at the Mount Vernon Marketplace.
Slightly further afield:
On 3 and 4 December, there are the Downtown Dollar or Less events.
On 3 December in Hampden, the lights on 34th street will go on. This is their 70th year doing this!
And happening now, down at the Inner Harbor, the Christmas Village is in full swing.
You can also try your skills on the ice rink down at the Inner Harbor!
Community events:
On 6 December, we welcome our new mayor, Catherine Pugh. Check out this BaltimoreSun article for details on the numerous events that surround this inauguration.
We hope to see you out there!