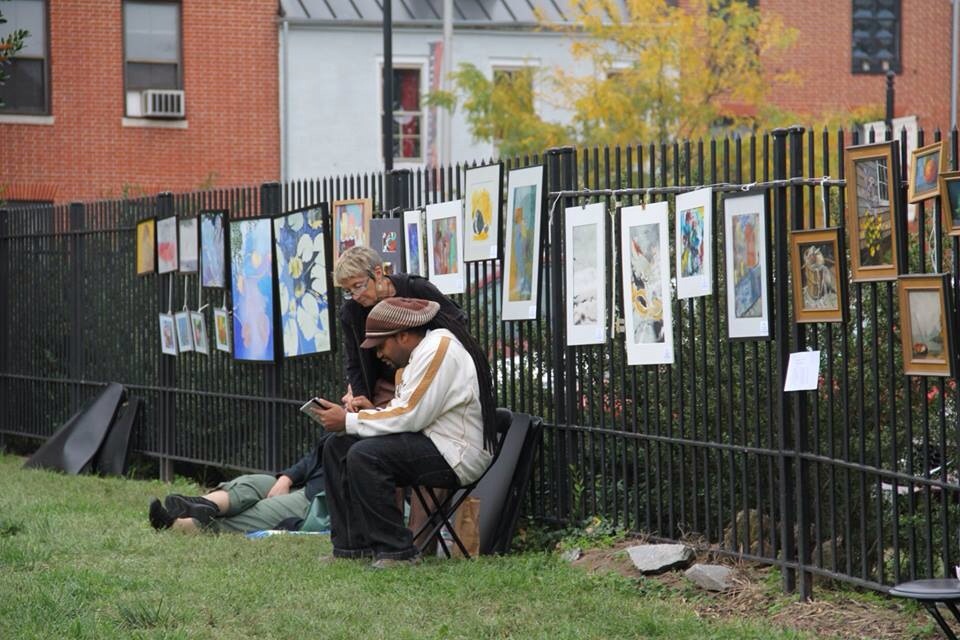 We want Artists for our Art on the fence and Café des Artistes.  If you have any framed or stretched pieces that would be suitable to put up along the park railings or in the park building and sell at no commission, please come join us, at our 6th annual French Fair in Seton Hill on October 3rd from 12-5 p.m.
Seton Hill (just West of Mount Vernon) is hosting its fun, funky and free French style event to celebrate the neighborhood as Baltimore's old French Quarter.   We have a variety of activities that will attract a diverse audience of locals and people from across Maryland; it should be a distinctive and memorable event so invite your friends and family.
The Fair highlights local living and vendors of French themed food. We kick off at 12 p.m. with DJ C/Nik. Hot Club of Baltimore play jazz, singer Kevin McWha Steele will perform as well as Black Cherry Puppet Theater with a Marionette show. During the fair visitors will also be able to tour the Historic St. Mary's Chapel and visitor center. In between acts we have hula hooping on the central green, our signature French maid races, Petanque in the park, a flea and craft market and a Kids corner that will include building a 6 foot and mini Eiffel towers, Toddler Tour de France, a mini Grand Prix, face painting, sack races and other fun stuff.
Please send an e-mail to French Fair at president@setonhill.org to book space.