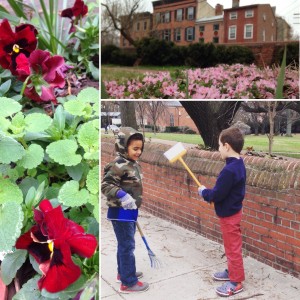 Spring is here, and it's time to start with some neighborhood spring cleaning! Come out with your neighbors on 16 April 2016 to help Bloom the Block!
We're going to be building off of what the youth from Cathedral of Our Mary Queen did, and we'll continue raking leaving, clearing flower beds, and planting! We'll provide all of the equipment!
And, by doing this, you can even "earn" money towards your stormwater fee! The clean up is scheduled for four hours, which means your half way to getting a $10 credit on your stormwater fee. If you and someone else from your household participates, then you have fulfilled the requirement to earn $10! You can earn $30 a year!
Location: St Mary's Park
Date/Time: Saturday, 16 April 2016, from 9am – 1pm
Want to help but can't make it on 16 April – you can contribute by greening your area!! Let us know if you need any tools!

We can't wait to show off our neighborhood! There are two major events happening the following week, after this clean up.
First, on Friday, 22 April 2016, in honor of the 225th Anniversary of the Sulpician Fathers' arrival to the United States in 1791, St. Mary's Spiritual Center and Historic Site will be hosting a private event.
Then, on Saturday, 23 April 2016, Seton Hill resident Nell Ziehl will be hosting a walking tour of the neighborhood with Baltimore Heritage!  How much do you know about your own neighborhood? There's so much history here, and if you're interested in learning about it, you should absolutely register for this tour!
There will also be a community dumpster on 30 April for all to utilize. It will be at the corner of N Paca and Druid Hill.
Questions? Please email us at president@setonhill.org.