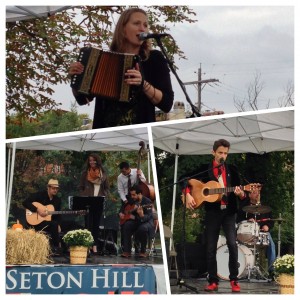 Rain or shine, the 5th Annual French Fair and Fleamarket is 11 October!! Every year, the Seton Hill Association hosts this event in Saint Mary's Park.  We kick off at 12 noon!
This free, fun, funky French-themed fair celebrates Seton Hill as Baltimore's historic French Quarter. We're planning on dance, music, art, a Flea market, a puppet show, good French-style food and drink, our signature French maid race, games and activities such as Petanque, Hula hooping, sack races, face painting, kids build the Eiffel tower, and a Toddlers tour de France and Grand Prix.
Here is the schedule of events:
12 pm DJ Steve Windows
1-2 pm Hot Club of Baltimore
2 pm lecture by Professor Richard Guy Wilson, speaking on Maximilian Godefroy & St. Mary's Chapel: The Invention of the Gothic Revival for America (tickets required)
2-2.30 pm Black Cherry Puppet Theater
3-4 pm Kevin McWha Steele
4-5 pm Victoria Vox
If you would like to purchase a flea market/craft spot, the fee is $20.  Payment options are below.  You also need to complete the Flea & Craft French form, and email it to frenchfairflea@gmail.com.
Vendor fee, $20.
Or, make checks payable to:
Seton Hill Association
600 N. Paca St
Baltimore, MD
Sponsors:
Seton Hill would like to add a Special thanks to MECU and the Baltimore Office of Promotion & The Arts, as well as Free Fall Baltimore.  Free Fall Baltimore is made possible by the Baltimore Office of Promotion & The Arts, an independent 501(c)3 non-profit organization, and the generous contributions of BGE, The Abell Foundation, National Endowment for the Arts, American Trading & Production Corporation (Atapco), The Henry and Ruth Blaustein Rosenberg Foundation, and the Joseph and Harvey Meyerhoff Charitable Funds.