Update – The Happy Hour to support State Center redevelopment is TONIGHT, at Ryleigh's in Mt Vernon, starting at 5:30.
Additionally, Sen Pugh is now stating that she "absolutely" supports State Center redevelopment. We are eager to hear more about her support and her actions to ensure moving ahead expeditiously. We know her schedule is full right now, but we have invited ther to join us at the Happy Hour to Support State Center Redevelopment tonight (26 March) at Ryleigh's-Mt Vernon from 5:30 to 8:30. Whether she is able to make it or not, you can (and should!) attend. Let's see you there!
——-
Seton Hill, along with the State Center Neighborhood Alliance is working to put on a series of events to support, educate and advocate for State Center Redevelopment!
Our first event is a Happy Hour at Ryleigh's Oyster in Mt Vernon.
Date: Thursday, 26 Mar 2015
Time: 5:30 to 8:30 pm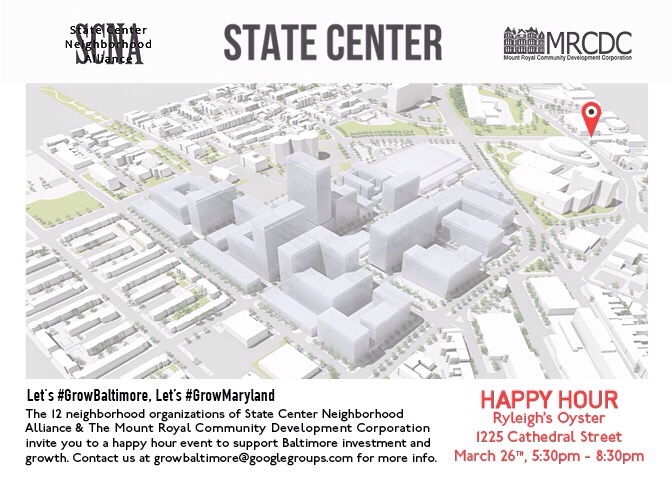 Here are additional ways to receive updates:
1. Join the SCNA Facebook Group.
2. Join & Share the Happy Hour Facebook event, and spread the word.
3. RSVP on EventBrite.
We hope to see you all there! Let's #GrowBaltimore, Let's #GrowMaryland!
Back to State Center